Sleep in luxury and comfort
If you are looking for a blissful night's sleep, let our lavish silks take you into a peaceful and comfortable slumber. Our range of silk filled duvets, silk pillows and pillowcases, silk sheets and silk nightwear will ensure that you sleep with sheer serenity and relaxation.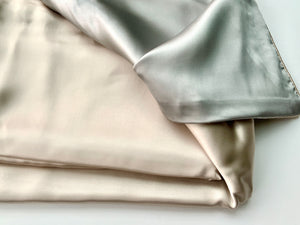 NEW IN
Silk Bedlinen In Two Tones
Pillowcase and duvet covers have two tones of colours that you can switch them for your mood.
Shop All
Snow Blossom silk bedding for a better night sleep
Welcome to Snow Blossom. Here you will find a wonderfully exquisite range of silk bedding, bamboo bedding, mattress toppers and more. From hand filled pure mulberry silk duvets, soft silk pillows, silk mattress toppers and sumptuous silk nightwear, you will find a beautiful collection of silk bedding on our site. For a better night's sleep, for better health, or just for a touch of luxury in your home, choose Snow Blossom silk bedding today.